Open Day of the Eindhoven location big success
Saturday 14 November Fontys Hogeschool ICT location Eindhoven organised an open day. Thanks to our joint efforts, it turned out to be a success once more! For the full-time programme there were 450 potentials attending, this same figure was 320 last year. A 40% increase! For the part-time programme, about 32 potentials were attending, of which 10 came especially for the Associate degree. There were three people interested in the masters. In general it was very busy at all the technical education programmes. Erdinc Saçan was one of the teachers who was helping at the Open Day. Following, a short account of the day.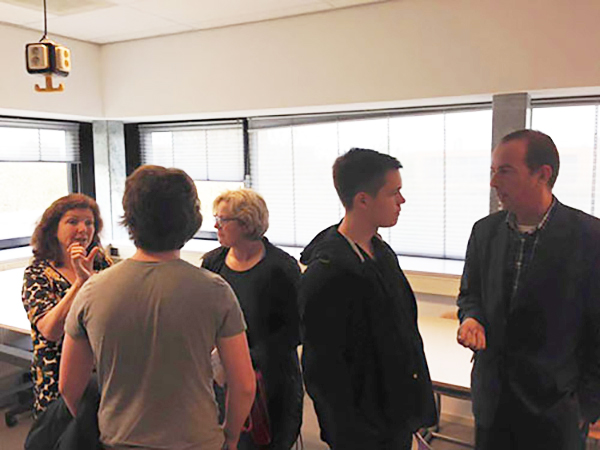 "On Saturday morning it was already very busy in the reception room for employees (amongst whom the many students of FHICT). Students were responsible for the registration and distribution of the lunch tokens to everyone who was working at the open day. There was also peppermint and deodorant for whomever could use some. After all, it all comes down to talking to people all day.
At 09:15 a large crowd had already assembled to go upstairs. The information sessions took place every quarter of an hour, divided over 4 different rooms, which were arranged in a theatre setting. Nevertheless the rooms were fully packed and people even had to stand. After each information session, people could follow a route that took them past all basic profiles, as well as so-called innovation routes. By distributing the various other activities over 3 floors, the visitors were well spread out over de building. Despite the fact that the basic profile ICT & Business was located in a remote corner on the 4th floor, many people came to have a look.
All in all, it was al very successful Open Day that was concluded with a drink. Thanks to all the employees and students who worked hard to make all of this possible!"