Robots, Escape Room and Makey Makey in the Evoluon at the FTC Dutch Open Championship Dutch Open 2016
Robots playing soccer, care and music robots, demonstrations and workshops with robots: you can see it all in the next few days in the Evoluon in Eindhoven. From 1 to 3 April the First Tech Challenge Dutch Open Championship 2016 takes place, a contest for high schools and regional community colleges throughout all of Europe, with about 500 youths between 12 and 18 years old taking part. Next to technology and creative thinking, working together in teams also plays a big role. The organisation of the event is done by the many volunteers of FIRST Brabant and Fontys Hogescholen. Of course our own LEGO-king Lennart de Graaf is present as well.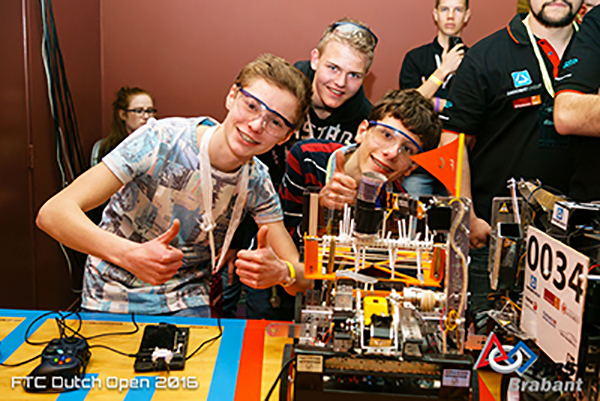 In short: there's a lot to see in the Evoluon. For instance, there are various exciting robot competitions with robots ranging from very small specimens to man-sized robots. But there is more. Care robots have their own competition, there's a robot that plays the guitar, toddlers can play with small dogs that react when they are being petted Next to that there are two workshops being held by teachers and students from Fontys Hogeschool ICT, Makey Makey and the Escape Room.
Makey Makey and Escape Room
At the various floors of the ever-impressive building, sixty children from the LEGO workplaces of Dynamo Jeugdwerk are walking around to see what they can do with robots. Taida Zenelagic (8) and Julia de Groot (9) have promoted tin cans and aluminium wrapped plastic cups to musical instruments, and subsequently connected them to a laptop by means of chords and prints. Rhythmically they tap the metal and the laptop makes it sound like music to your ears. During the workshop Makey Makey they are busy with creative programming and are being guided by among others a very enthusiast Chris Geene, who is a teacher at Fontys Hogeschool ICT. Outside the Evoluon are also all sorts of things to do. There is our own Escape Room (designed and built by students of Fontys Hogeschool ICT and Fontys ACI). A great experience for every visitor!
Next to that, Fontys Hogescholen is represented as one of the partners of the FTC Dutch Open 2016. The Fontys Inspire Award 2016 will also be awarded.
More info: http://firsttechchallenge.nl
Source: www.ed.nl