International week @FHICT
After a long period of preparation, contacting partner schools, FHICT students participating in projects of partners, thinking about the content of the own programme and project assignment, the timetabling of supervisors, arranging accommodation, meals, social programme etc. the time had finally come.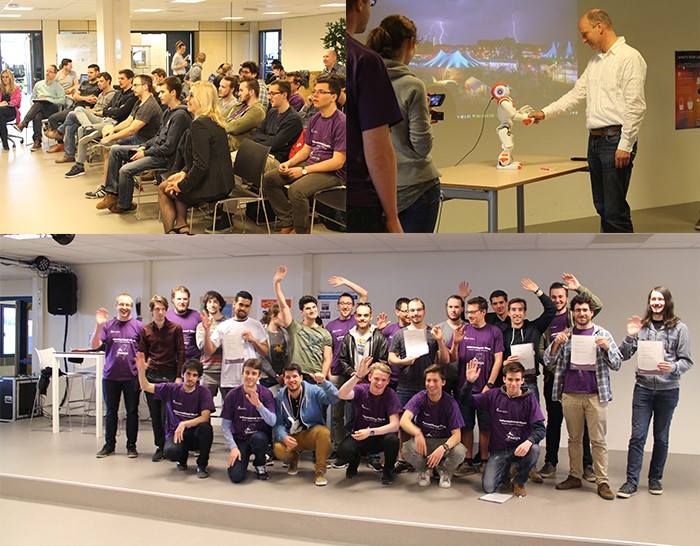 The past few week, we have welcomed two excited groups of foreign students from our foreign partners. On account of the large number of participants, we actually organised two weeks.
In the first week, students from the Cardiff MET in the UK and from Howest Bruges in Belgium came by. The second group consisted of Portuguese students from UPT Porto and Belgian students from partner schools PXL Hasselt, EPHEC Brussel, Artesis-Plantijn Antwerpen and UCLL Leuven. The project assignment was the development of a concept with the NAO robot within the context of the question 'Will humans become obsolete?' Students worked out a use case, received inspiration and feedback from the experts within the school and subsequently went working with the software for the NAO. At the end of the week, they presented their project to an expert jury.
It was striking that the first group, consisting mainly of girls, presented a project involving care robots that could recognise emotions and provide feedback on your working posture, whereas group 2 went working creatively on 'real men-things' like a robot that will fetch beer at the bar. The work sessions were interchanged with a company visit at Tech United, EPC and Prodrive and of course student life in the city centre of Eindhoven with convivial dinners and an International Quiz Night.
Both groups were very enthusiastic about the programme offered and virtually lyrical about the NAO robots. They also enjoyed Eindhoven and the Dutch way of life.
A number of quotes speak for themselves:
Great people, nice university and amazing workshop.

It is a brilliant, entertaining and exciting experience. The city and the school are really good. Working with the robots is quite like a once in a lifetime experience.

Get to know more people, exploring more into programming with robotics. It was very much executed very well by the staff and buddies. If I have a chance will come again.
It took a lot of effort, time and energy and it yielded the conclusion that two international weeks in a row meant a too large burden for everyone next to their regular duties. But does this work also yield a lot of energy as well as some great feedback! We are really happy about that and we're naturally very proud of FHICT!