LEGO-king Lennart de Graaf looks back on the FTC Dutch Open 2016 with satisfaction
On 1 and 2 April 2016, Fontys organised the FIRST Tech Challenge for the 3rd time, this time in collaboration with the RoboCup European open in the Evoluon. In this competition youngster between 12 and 20 years of age develop, build and program a robot.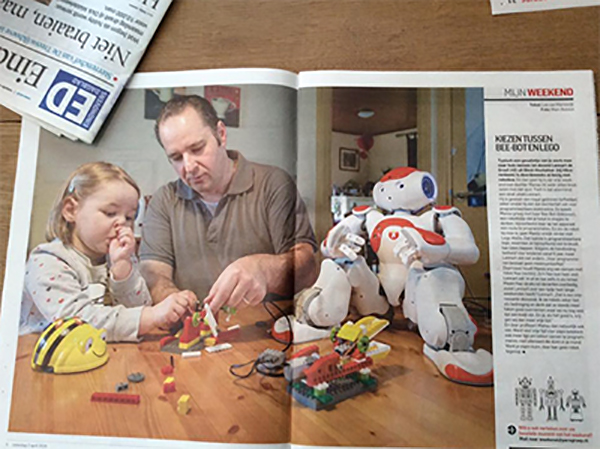 It was fun to see that this annual assignment results in so many different solutions and robots. The changing alliances make for a good atmosphere, because everybody can become partners and it's useful to exchange strategies. Out of a total of 44 participating teams, from 9 different countries, Pink Precision from Den Haag went home with the first prize (the Inspire award). This new FTC team already had years of experience in the FIRST Lego League and that was noticeable from the presentation, the team spirit and the robot.
Several teams from the FIRST Lego League junior (6-9 years old) were also present on 1 April with their moving structures of programmable LEGO. Nice to see how the older FTC boys and girls act as ambassadors for science & technology for these young participants.
On Sunday 3 April the FIRST Lego League off-season took place for all teams who thought the building season of the FLL was much too short. During the first FLL off-season teams had to work in alliances just like at the FTC and so there were two robots on the floor at any one time. This made for surprisingly fun results and it certainly improved the atmosphere. Fontys Hogeschool ICT was there not just for the teams, but also for the visitors, with fun workshops. The visitors programmed and built musical instruments in the Makey Makey workshop, using cans, aluminium foil and bananas. There was a thrilling Escape Room, designed and built by our own students.
All in all it was a very busy, but also very fun weekend. Together with our team of more than 60 volunteers, we're looking back on a number of very satisfying matches in which all ages were working together with technology in an educative, but above all fun way.