Escape Room is very popular with visitors of the Open Day location Eindhoven
Sunday 31 January 2016 the Open Day of location Eindhoven took place. There were various information rounds and stands ran by students. This was also true for the project group of the "Escape Room". These students had turned a classroom into a real "Escape Room". Per session, 8 visitors were allowed to take a look inside the Escape Room and experience it themselves. This was very popular with the visitors. There was a queue all day. Omroep Brabant was also there to write an article about it. Next to that student and initiator Raoul Houkes was being interviewed for a radio broadcast on Omroep Brabant. Below you can read the article by Omroep Brabant: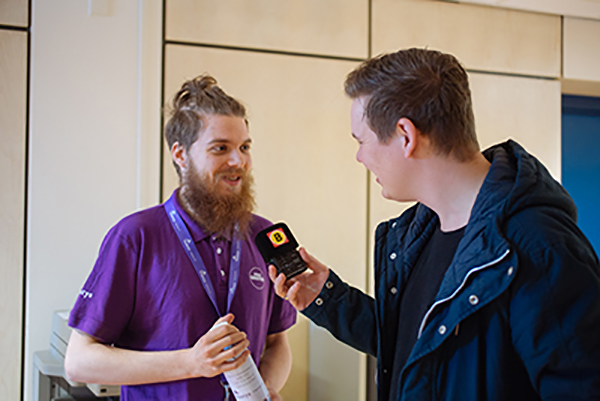 High school students solve cybercrime in Eindhoven
Sunday afternoon, high school students got the chance to help fight cybercrime. Well, net real cybercrime, because students from the ICT and Communication education programme of the Fontys Hogeschool built a mobile escape-room that makes high school students aware of the dangers of the internet. The visitors of the open day of the school for higher vocational education could already have a sneak preview.
"We wanted to show that ICT is more than just programming and tinkering with computers" says Raoul Houkes, student ICT. "If you're going to inform people, you might as well do it through some fun activities. Escape-rooms are popular, so in this case one and one was definitely two."
Pop-up escape-room. Students from various Fontys education programmes worked together to design the escape-room and to realise it. One of the teachers added one very specific requirement to get a passing grade: the escape-room had to be fully mobile! So that's what the students did. "We can set this thing up and also break it down again wherever we want. It may well be that shortly we are going to visit schools and companies with this thing to be able to inform them at their own location", says Houkes.
Escaping. Those who accept the challenge of trying to escape are being taken along in the story of Jessica. She has become the victim of hacking and pictures of her will be uploaded on the internet within twenty minutes. It is up to the players to try and prevent this from happening. One of the groups will enter Jessica's room and the other group will enter the group of the offender. By working together and exchanging information, they can unmask the offender and leave the room. Most of the visitors are very enthusiastic. "If they really want to teach us about this topic, then this isn't such a bad way at all. Usually you're stuck with a boring lecture and now you're actually allowed to do something yourself", one of the students who came to have a look says. He adds: "If it were up to me, they'd also visit our school to give an instruction at our school, seems like fun to me."
Offender. The lesson that you learn in the escape-room is: Be careful what you share on the internet, because before you know it, you're victim of cybercrime, or even committing a cybercrime yourself. And if you're curious who committed the crime, you're going to have to enter the escape-room yourself.
Author: Maarten van den Hoven