Successful PR-stunt by PR DeStem, partly made possible by talent from FHICT student Jonique
On 12 January 2016 the first and only edition of the free paper PR DeStem, with 20.000 copies, was handed out at 10 large train stations in The Netherlands. This was a PR-stunt by students of the minor PR & Media relations of the Hogeschool van Arnhem en Nijmegen (HAN).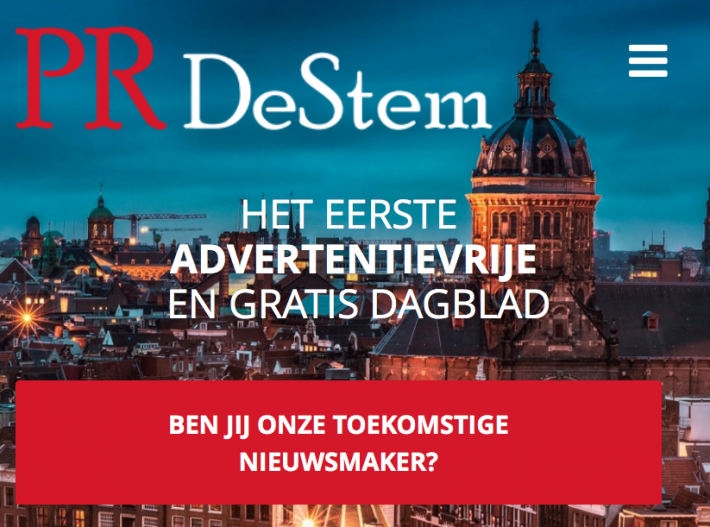 "Together with my colleagues I have been working on a PR-stunt of the minor PR & Media relations the last few weeks. We have made a free, advertisement-free paper "PR De Stem", which we have delivered throughout the Netherlands to raise as much awareness as possible. Our goal was to raise as much media-attention as we possibly could for this minor."
We partly succeeded in this. Through twitter (#prdestem), Facebook (prdestem) and Instagram (prdestem) we posted various messages and reactions. The largest article is in De Gelderlander: http://www.gelderlander.nl/regio/arnhem-e-o/arnhem/gratis-krant-pr-destem-is-stunt-nijmeegse-studenten-1.5622873.
"This goal of this assignment was to create news that would focus attention on us, both in the media and in public. We partly succeeded. People have signed up to become journalists for us. Additionally we have contacted various media and asked for additional information. PR DeStem is a stunt, but our vision on making news is not. Coming up with the idea for the newspaper and executing it was a stunt, but our vision on making news is very serious. We believe in the Dutch media consumer as a maker of news. In our time, the consumer of news is totally different from 20 years ago, let alone 40 years ago. Having the public think along and participate is something that really fits the zeitgeist. How to actually execute this in detail, is something the journalistic world could think about."
More info: http://www.prdestem.nl