Eindhoven will be getting the first building provided with a computer-generated 'water roof' in two years' time. The top of the new building for the Fontys University of Applied Sciences ICT at the Rachelsmolen will serve as a rainwater harvesting area.
The water will be stored here temporarily: partly to cool the building, partly to prevent overload of the sewer system. The spatial quality committee gave the go-ahead for the design of Ector Hoogstad Architecten.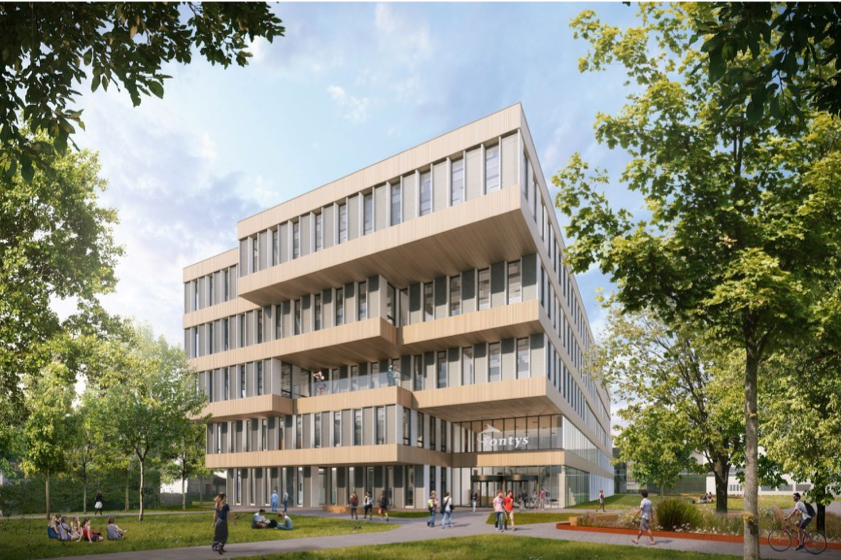 Extra sustainable
Around 18 million euro was involved when constructing the five-floor tall and 15,000 square metre school. "If the licensing continues to go well, we can start the construction at the end of this year and our ICT students can move in in August 2020", says Michel van der Zanden, senior project manager Accommodation and Facility Issues at Fontys University of Applied Sciences. "We are proud of this new design, because the building will be very sustainable. It will be natural gas-free; for energy, heating and cooling we will use heat and cold storage in the ground and solar panels on the roof. And for cooling, we will also use the roof: in case of a peak of rainfall, a layer of 8 centimetres can form on the roof." When water evaporates, this leads to a reduced temperature. 
Climate change
Fontys chose this in consultation with the municipality of Eindhoven, which wants to anticipate the changing climate. Van der Zanden: "If we will be getting heavier rainfall, then it's important that the rainwater that falls onto the roofs of buildings does not lead to an overload of the sewer system." When the computer calculates that it's possible, the water goes down. In can then still sink into the ground in wadis on the premises.
The new school building (R10 in Fontys-terms) will also be a very open building. The façade will consist of alternating wood and metal and will be provided with a large number of windows of extra insulating glass, which will continue from the floor to the ceiling. The building will be situated in what is now partly the Fontys car park. The educational institute already built a new parking garage in the Rachelsmolen, which will be in use as of this month.
Fontys University of Applied Sciences ICT is now in building R1, the biggest building at Rachelsmolen. Whether it will eventually be renovated or replaced by construction is currently still the subject of a study by Fontys. What is known is that three technology courses of Fontys in August will already be moving to the former TNO building 'De Rondom' at the Dorgelolaan next year.
Author: Vanda van der Kooi
Source: Eindhovens Dagblad