ICT students make Millennials aware about retirement and win ICTalent Awards 
Fontys University of Applied Sciences ICT puts talent in the spotlights during the 6th edition of ICTalent Awards in De Effenaar 
On Tuesday 29 May Fontys University of Applied Sciences ICT organised the sixth edition of the ICTalent Awards. Rachelsmolen campus was exchanged for pop music venue De Effenaar. In total, eight participants pitched their best ideas to an enthusiastic (international) audience consisting of various companies, employees, students and proud family members in a sold out hall. Project group "RetireMe" eventually won the main prize of 5000 euro. The 400 visitors chose "CPVR" as the audience favourite. They won the Audience Award.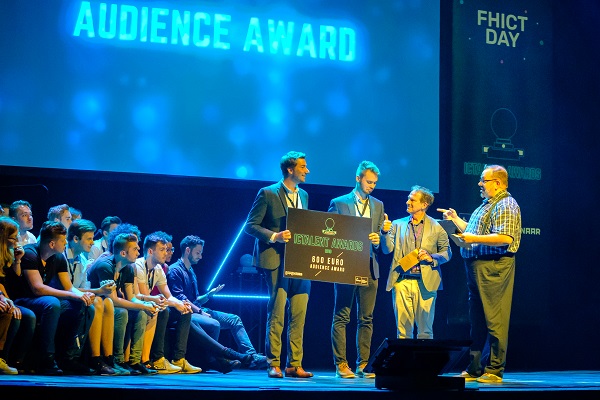 RetireMe makes Millennials aware about retirement 
Fontys ICT students Sebastiaan Verdonk (fourth year ICT & Cyber Security & Business), Toon van Strijp (first year ICT & Software Engineering) and Jordy Vonk (fourth year ICT & Business) came up with RetireMe: an awareness platform for making Millennials aware about their pension. The platform uses Blockchain to guarantee scalability and transparency. This is important for, among others, pension funds that need to indicate that the money they say they have is actually in their possession. 
"Through micro-transactions we multiply the touch points to increase awareness. We use a simple and appealing use case of deposits on plastic bottles. Through this use case we can explain to Millennials in an easy way that one euro deposit is worth 15 euro when they will retire 40 years later. We achieve this practically through an app with which you scan the deposit vouchers and see what the value is when you retire," said the ICTalent Awards 2018 winners. 
What's special about the team is that it consists of various talents: from 1st to 4th year students and from various areas of study. A unique phenomenon within the ICTalent Awards, says project leader Maartje van Hees.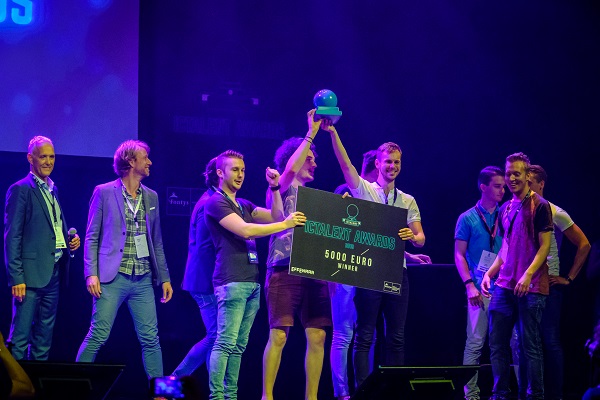 Not only technology, but also social issues
After an exciting finale, jury chairman Hank van der Put (CEO Acknowledge) spoke the redeeming word. He was in the jury panel together with Carlo Korssen (CEO Indicia) and Arien Kingma (CEO Brand Encounters). Hank explained: "What struck was that technical people not only thought about technology, but also approached what are very clearly social issues. Various disciplines meet up during the ICTalent Awards, the business world as well as students. This results in multidisciplinary cooperation. Nice young people who take on new ideas together." 
Sebastiaan Verdonk pitched the idea and answered the endless questions of the members of the jury during the final. "Wonderful! Unbelievably fantastic! I didn't know whether it would work, but when I had answered the questions of the members of the jury during the final I thought…yes, I got it!"  Tieme Goedendorp took the stage on behalf of CPVR. "I'm really happy! Normally I'm never nervous, but when you stand there it kind of hits you in the face." 
Putting great projects in the spotlights 
The organisation is looking back on the sixth edition of the ICTalent Awards with a sense of satisfaction. Maartje van Hees explains: "The first edition was organised in 2013 in the auditorium of R5 at our own campus. In 2018 we will be in De Effenaar where our talents will shine on the stage. Each of them participants who pitch their idea full of pride and self-confidence. They were first selected from several qualifiers; they were then given, among others, a pitching masterclass. It is preceded by an entire process. It's great to see how they have grown during those weeks. One can only be proud of this! Nice projects that are realised at Fontys University of Applied Sciences ICT thus literally get a place in the spotlights." 
ICTalent Awards 
ICTalent Awards is the competitive showcase of Fontys University of Applied Sciences ICT. Students of all areas of study get the chance to show their best work. ICTalent Awards is leading and innovative and aims for even more challenge. It offers inspiration and sees to knowledge sharing between students of various areas of study. Interesting and innovative projects we can be proud of are realised at the Fontys Information & Communication Technology course. Sharing pride is the main focus during the ICTalent Awards. In addition, there is great demand in the business world for entrepreneurial students: students who demonstrate initiative and daring. ICTalent Awards is the means par excellence of conveying and demonstrating this. 
After movie and photos 
The after movie can be watched here. 
There is also an online photo album on our Facebook page. 
More information FontysICTalent.nl