On Thursday 28 February the first stone of the new education and research building at Rachelsmolen campus in Eindhoven was laid by robot Sawyer. This new building (R10) will become the new accommodation as of August 2020 for students and employees of Fontys University of Applied Sciences ICT. Six students of FHICT programmed the robot so they and Hans Nederlof, member of the Executive Board, and director FHICT Ad Vissers laid the symbolic first stone of the building.
Sustainable and innovative educational building
Fontys University of Applied Sciences ICT wants to offer its research and education programme in an inspiring environment. Part of the students will be taught in the new building from mid-2020. This new innovative accommodation fits in with the mission and vision of Fontys and will be a challenging, stimulating and ground-breaking learning and working environment in which we will bring out the best of our students. The building invites meetings with students, employees, the business world and other interested parties for the creation and sharing of knowledge. In this building, the traditional classrooms make place for transparent Open ICT Labs (OILS). An OIL is an open environment where there is room for large groups to cooperate, learn and experiment. In addition, there will be, among others, a  photo and video lab and a makers space; a workshop where, for example, parts for prototypes are made.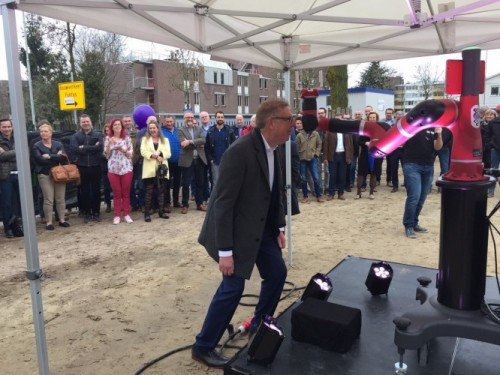 Creating a future-proof learning and working environment
The construction of R10 is a project of a large-scale accommodation programme of Fontys. For optimum implementation of the new educational requirements, we are seriously adapting our learning and working environment. Especially in Eindhoven and Tilburg we will be investing in our buildings and campuses over the next few years. The main motive behind all these relocation and construction plans is that we want the make physical environment, --just like our education- more future proof. Under the heading 'Fontys is building on your future' we are creating an environment where knowledge circulates between professionals from the business world, the social arena, students, teachers and employees.
The FHICT Video crew also reported on the laying of the first stone. Watch the video below: