During the SURF Education Days that took place on 5 and 6 November 2019 in Den Bosch, Eric Slaats was one of the keynote speakers. Joined by three students who there as hands-on experts, he made an impassioned plea for the Open Education Programme as we know it at Fontys ICT University. The interview below appeared in SURF magazine just before the Education Days began.
Open programme prepares students for an unknown future
Since 2016, a number of students at Fontys ICT University are enrolled in the "Open Programme". In this ICT programme, the students determine the learning route to their diploma all by themselves: no roster, no tests, not even a required curriculum. According to Eric Slaats, course director and keynote speaker at the 2019 SURF Education Days in November, students learn better if you give them enough freedom and focus on their talents. "They are so highly motivated that we often we have to slow them down."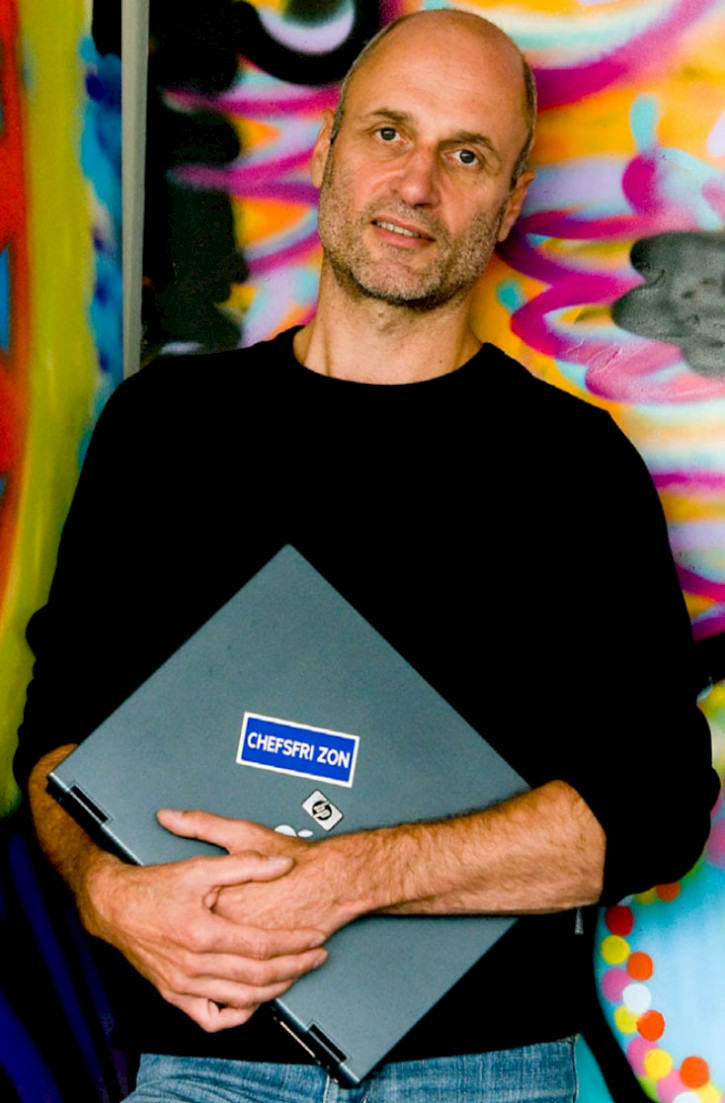 What, according to you, is the essence of the open programme?
"All students have 100% ownership of what they do, how they do it and even how they will they will be evaluated. This results in a rich palette of students with their own curriculum within ICT. Our basic principle in this is always positive: what is a student capable of and what is his or her talent?"
Does having to make all these choices create stress?
"No, that is rather much more the case in traditional education. There, young people are faced with a huge number of programmes. When that choice turns out to be the wrong one, they have to wait before they can begin all over again. We, on the other hand, actually open the little doors between the programmes. Students can change directions during their journey."
What type of students do you attract?
"We have not yet been able to define one specific prototype, but we can say that these students are not the undecided or unsure types. They are people who want do things their own way and choose their direction on their own. We have very few drop-outs."
How else would you describe your students?
"Students almost always set a higher standard than the programme does. They also have the tendency to want to work faster and faster. They are so highly motivated that we often we have to slow them down. The students are also keen to help each other. They consciously seek out other fellow students for areas in which they themselves may not excel. We are working with learning communities that transverse all the years. A second-year student and a fourth-year student, for example, can really help and support each other on specific components."
Is an open programme primarily suited for ICT education?
"No, it's suitable for any professional field. We are currently in discussion with a paramedic programme, for example. It started with ICT because that was where the changes were so big and happening so quickly. Besides, it's no longer even possible to establish a curriculum for ten years.
How do you ensure that the students reach the finish line with enough experience?
"We work with an established competency model. It describes every kind of ICTer. We have portrayed this in a 3D model as the lifecycle of software. Students build their own profile on that. Here, they must show growth in each component. These components are always real practical case studies. We collaborate intensively with companies for this. This is how our students can obtain realistic and meaningful education.
An open programme must also demand quite a lot of the instructors.
"Absolutely, and this is definitely a challenge. Many educational programmes are based on a lack of trust: on checking, measuring, giving assignments and giving marching orders. We, conversely, work on trust. This requires a whole other approach and mind-set. With us, instructors have more of a coaching role. They can do an internship with us to find out this open programme is right for them."
What do you think the instructors gain from it?
"Quite a lot. You are literally and figuratively close to your students. You work on the subject matter but you will also often have to deal with self-reflection, critical thought, personal development and creativity. You see the quality and the confidence of the students grow right before your eyes. It doesn't get any better than that."
In short, open programmes for everyone!
"As far as I'm concerned, why not. But we're not that far yet. The world of education is fairly conservative and the current accreditation system is also not to our advantage. You really need people that are bold and a college or board or team of instructors that is really committed. But the most important selling point for open programmes is the fact that students asking for them."
When you gaze into your crystal ball, what do you see for the coming years?
"I hope diplomas will disappear and that we will start working with portfolios more often. Today's education is too much of a certification factory. We give young people far too little opportunity to make a good decision. Nearly half fail to complete the propaedeutic year. Isn't that astounding? We really need to start offering students personal curricula."
You give over 90 lectures every year. No lack of interest apparently?
"There is a great deal of interest. Both from the higher professional education (HBO) and the scientific research (WO) fields. The possibilities are also vast: it's not terribly complicated. As long as you educate and prepare students for reality and incorporate the challenges taken from practice into your programme."
You will give the keynote speech during the SURF Education Days with the theme - "Motor for acceleration".
"This certainly applies to our programme. Because the bar is set high, quality goes up. That ensures that our students are much better equipped for the future. Many visitors of the SURF Education Days may only have a vague notion of what an open programme actually is.
I am going to demonstrate that it is not a theoretical exercise, that it's in full swing and above all, that it works tremendously well.
Source: 2019 SURF Magazine, no. 3
Text: Johan Vlasblom
More information on the SURF website
See all the keynote speeches here: