Fontys to re-train professionals into full-fledged ICT professionals with job guarantee together with University of Amsterdam and the business world
Fontys ICT University and the University of Amsterdam are going to join forces in making a significant contribution to reduce the scarcity on the ICT job market. Ad Vissers, Director of Fontys ICT University and Frank Kresin, Dean of the University of Amsterdam (HvA) have signed a letter of intent for Make IT Work, a re-training programme for higher educated professionals. The signing took place after the Computable Award for Best ICT Instructor was announced. Make IT Work was one of the nominees. Fontys ICT University will be responsible for executing Make IT Work in Southern Netherlands.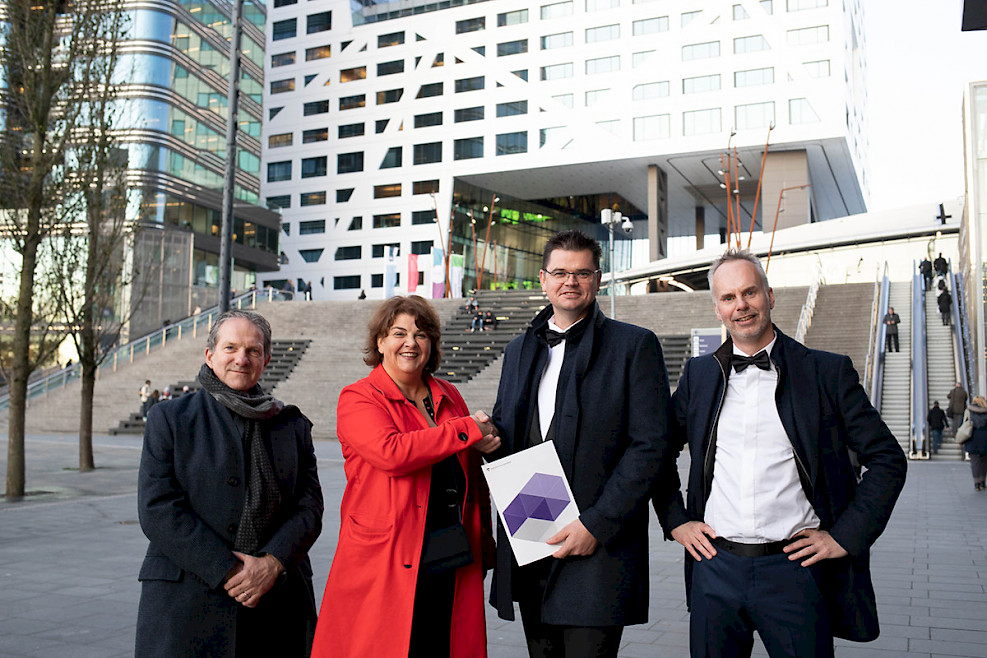 Re-training for an ICT position at a higher professional education level (HBO)
"Lifelong learning" is more topical than ever. Professionals never stop looking for new ways to develop, in their own field or in a different direction. Through Make IT Work, candidates with a HBO or WO diploma are re-trained over a period of eleven months. After making a selection based on ability and motivation, the candidates follow an intensive five-month programme at Fontys ICT University. During the next six months, they then undergo further training at their future employer and are rewarded with a salary that is in line with the market.
A job market match has already been made in advance between the trainee and the employer. This is a unique collaboration between the educational and business worlds in which the commitment of an affiliated company is established when the trainee enters the Make IT Work programme. It offers interesting career perspectives for those taking part.
Opportunities for job seekers via the UWV
Nationally, and especially in the Brainport and Midpoint region, there are many ICT job openings. In addition to shortage of ICT specialists, there are also highly educated job seekers in other fields. ICT employment opportunities are growing and companies expect that this demand will only increase. With Make IT Work, Fontys offers both companies and candidates some really nice opportunities. Robert Lexis, Senior Employer Services Adviser, is also enthusiastic about the re-training programme. "As the UWV, we whole heartedly support this initiative. In this current job market, training is an important component for lateral entrants in the ICT." For candidates coming via the UWV, it is important to know that, in collaboration with the UWV, they can follow this training course and still retain their unemployment benefit.
Make IT Work works!
Make IT Work is an initiative of the University of Amsterdam. The project was started in 2015 as a form of innovative ICT education and to create a stronger regional ICT market. Since then, nearly 400 professionals have been re-trained in Amsterdam and over 100 firms have become affiliated as employers via the Make IT Work programme. An impressive 97% of the participants are still employed in the ICT field.
In April 2020, Fontys ICT University in Eindhoven will begin the Make IT Work Software Engineering programme. After that, we will examine which other ICT programmes will need to be offered in the future. Interested companies and candidates can contact us via makeitwork@fontys.nl.
Social assignment
Make IT Work is a good example of what Fontys ICT University aspires to achieve. Under the motto of #OpenUp2023, it has opened its doors to anyone at HBO level who wishes to further develop in the ICT domain. This can take place within the ICT field or with ICT. We will thoroughly expand the educational programmes for professionals from various fields in the coming years.
More info: www.it-omscholing.nl and Makeitwork@fontys.nl.