Innovation thanks to a unique educational collaboration
The business world and educators have again joined hands to create a unique collaborative effort SPARC: the Sharing Platform for Applied Research Cooperation. With it, Fontys ICT University has achieved an all-time first: never before has such a collaborative effort been created between the business world and education. During the festive opening of the Fontys ICT InnovationLab on Tuesday 22 October at the Strijd TQ in Eindhoven, the first introductions were made.
Unique concept
Companies in the Brainport and Midpoint Region can join SPARC. Together with FHICT students and staff, these firms will be part of the research teams at the Fontys ICT InnovationLab. This will create an open innovation environment in the area of ICT. At this moment, companies in the region are lining up to participate in this special collaborative effort.
Alex Otten, Chairman of SPARC, (and Managing Director of We are you): "SPARC is a truly unique concept, not only in the Netherlands, but also internationally. All the parties involved have the privilege of taking part in innovation." 
Sligro Food Group has been a Partner in Education with Fontys ICT University for years. CIO Maurice van Veghel, refers to their SPARC membership as "the next level"  in their collaboration with FHICT: "We are pursuing the best innovation on the nexus between technology and food!" 
The PSV football club is also excited about sharing expertise and knowledge with the University: "With our SPARC membership we hope that Fontys ICT University can help us find the answers to practical IT issues so that we can evolve in such areas as performance and fan-experience and in realising or vision for 2030," says Luc van Agt, PSV Performance Manager.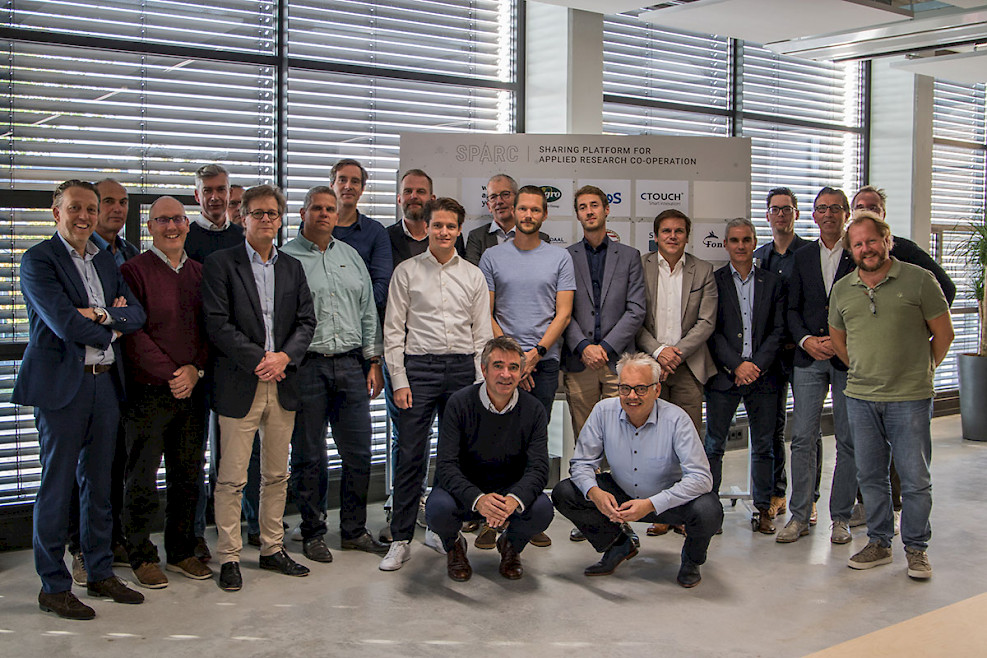 ICT Innovation by working together 
In a rapidly changing society, innovation is the only way to keep up. Certainly when it comes to ICT, innovation springs from collaborative efforts, co-creation and cooperation. Cooperation, especially between businesses and university programmes. This is an everyday occurrence at the Fontys ICT InnovationLab. Here, companies, students and instructors come together to form a community. Together, we work on practical ICT research issues. Every company supplies three research questions which the groups of students together with instructors and company employees explore with unbridled curiosity and expertise. This cross-pollination (-creation, -circulation) in the Lab will ultimately result in ICT innovations.
Innovation District of Eindhoven 
SPARC established the Innovation District of Eindhoven: Strijp-T. With it, they are adding the word "Educate" to the existing motto of "Make-Create-Innovate".
The Fontys ICT InnovationLab spans 4,000 m2 of the former Philips buildings (TQ4 and TQ5). Certainly a historic and dynamic environment. Not a classic school building, but a creative, hybrid learning-work environment that will be surrounded by all kinds of innovative companies and organisations at the Strijp-T. A number of companies have already become official members of SPARC: We are you, Sligro Food Group, Atos, Datastreams.io, PSV, HLB Van Daal, Here Technologies, Ctouch, Simac, Hendrix Genetics, TU/e, GAC Business Solutions, Vion Food Group and IT Workz.  
Watch the video:
More info: https://www.sparc-innovation.nl