Working together on a future-proof ICT learning programme
Good preparation is half the work. Also in the connection between secondary and higher education. Based on this idea, the Tilburg educational institutions Fontys Hogeschool ICT, Odulphuslyceum and Theresialyceum joined forces last school year. With an educational programme that makes secondary and higher education even more focused on the future.
Last year, 80 Tilburg HAVO and VWO students were taught seven Tuesdays by Fontys University of Applied Sciences ICT. Initially on location, later online, they learned about cybersecurity or user experience (UX). "With this collaboration secondary school students get a good picture of both education and discipline", says Frens Vonken, location manager at Fontys. "The ICT curriculum at secondary school has also been broadened and deepened in recent years, a challenge for the teachers there. With a large, driven team and with specific resources at Fontys University of Applied Sciences ICT, we offer a future-oriented solution".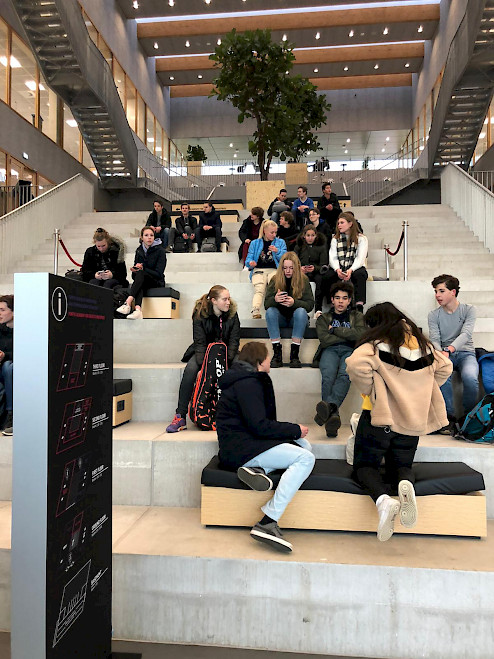 Recommended by students
Frank Westland and Kees Nowak, teachers at the Odulphuslyceum and Theresialyceum respectively, look back on the project with satisfaction. Frank: "We started very openly, because in my opinion the outcome can only be positive. And that turned out to be the case. A small school survey showed that a large part of the students recommend this programme for the next 5 havo and vwo students. Kees: "I was taken care of and was able to place the responsibility with students. With questions they had to go to Fontys; they had received the telephone numbers of the supporting student assistants for a reason".  
Independence and guidance
Because not only teachers were closely involved in this project, also students at Fontys University of Applied Sciences ICT in the role of student assistant. With great pleasure. Like Andreas who was very satisfied with the active, interested attitude of 'his' students, although his chocolate milk rewards may also have played a role in this. Student Frank noticed that in addition to independence, the students also need a goal and guidance. "They ask concretely what we can teach them and what the lessons will ultimately bring them".  Fontys teacher Walter Grolman looks back with satisfaction on the project, which is intended to be up and running again next year. "I enjoyed dealing with the young people and they all saw the need for cybersecurity. We like to keep an eye on the very interested students; these are precisely the people who will be in great demand later on in the ICT sector".  
A lot of discovering and practicing
People like Odulphus pupils Nemo Groenwegen and Abe Vriens. Nemo chose UX. "Very interesting and educational. With little theory and a lot of discovering and practicing. For example, we came up with improvements for Magister, the administration and communication system for schools". Abe opted for cybersecurity: "I've been interested in it for a long time and I think it's also an important subject to learn about". Next year, he's also taking vwo exams and if everything goes as planned, Abe will then start at Fontys Hogeschool ICT. Ready for a future in ICT. 
Author: Olwen Willems